My 100% angora products are available in natural colors only; white, grays, fawn and black.
Angora Hats
This warm, fuzzy hat is 100% angora, and is extremely soft and durable, it is very lightweight and feels like a feather upon your head. It can be made with one or two natural angora colors.

Size: one size fits all
Price: $88.00 + shipping and handling
---
Wool, Angora, Alpaca Blend
With soft angora yarn on the inside to keep your ears warm and wool blend on the outside this hat will make you one happy camper. The wool can be any color you wish and is dyed with either kool-aid, natural dye or synthetic dye.

Sizes: one size fits all
Price: $72.00 + shipping and handling
---
Felt Hats
These hats are incredibly unique, no two are alike. I knit them about three times too large, felt them and place them on forms to dry. Your head will always be dry and toasty while wearing this hat. Choose your colors and be amazed at the final result.

Sizes: small, medium and large
Price: $78.00 + shipping and handling
---
Kitty Bonnet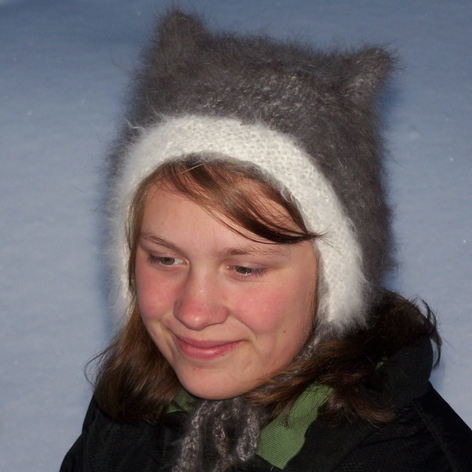 These cute kitty bonnets will make all your friends jealous! They are made with 100% angora and can be one solid color or trimmed with a different color (like picture above).

Sizes: large, extra large
Prices: $92.00, $98.00 + shipping and handling
---
Angora & Wool Headbands
Headbands like you've never seen before. These unique looking headbands are 100% soft angora on the inside and 100% wool on the outside. Chose light or dark angora color and then chose colors for the wool, or keep it all natural looking. These headbands are extremely warm.

Sizes: small, medium and large
Price: $40.00 + shipping and handling